Performing Live at Erotic Literary Salon in Philadelphia
by DhamiBoo on 08/22/15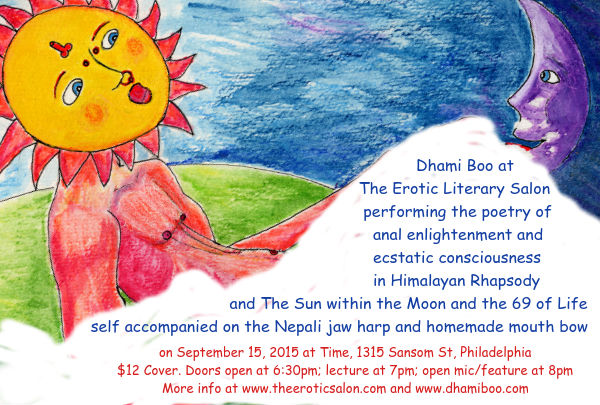 Tuesday September 15, 2015

Erotic Literary Salon

Upstairs at Time

1315 Sansom St.

Philadelphia, PA

Cover is $12 (senior and student discounts available)

Doors open at 6:30pm; lecture at 7pm; open mic and feature start at 8pm.

I will likely perform around 9pm.




Dhami Boo will be performing an epic poem of anal enlightenment, The Sun Within the Moon and the 69 of Life, as well as Himalayan Rhapsody, a performance medley of poetry and Kathmandu haiku from the forthcoming book, Driving to God in a Handbasket. self accompanied on a Nepali jaw harp and a homemade mouth bow.


The Erotic Literary Salon is Philadelphia's monthly open mic event devoted to all things erotic. More info at www.theeroticsalon.com




An experienced horse drawn farmer, hooker, healer, artist, and esl teacher, with a queer perspective, DhamiBoo has a lot of gritty, memoir-able material. He teaches Reiki and Erotic Reiki. His performances of poetic tales of ecstatic consciousness have left a trail of smoking pubes from Bangkok to San Francisco and points east. He's been published in RFD magazine, the St. James Infirmary's Resource Guide, and anonymously, by editor's mistake, in Sterry's sex worker anthology (Unconditional Love at Beck's in Johns, Marks, Tricks and Chickenhawks). You can find him at

www.dhamiboo.com

.